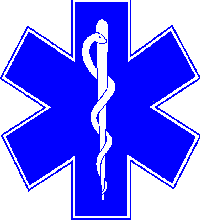 Depauville VFD EMS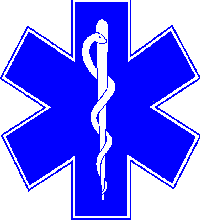 The Depauville Volunteer Fire Department provides Emergency Medical Services on a first responder basis to our first due area. Ambulance service is provided by Thousand Islands Rescue. Our rescue truck is equipped for Basic Life Support, including an automatic external defribilator (AED). We currently have one member certified at Basic EMT-Defribillator, and one Advanced EMT-Critical Care. A number of members assist with driving, patient handling, and other assistance on scene.

Approximately 50 per cent of our total fire department responses are purely EMS. Added to that are motor vehicle accidents and rehab work at fire scenes.

In today's busy world, it seems fewer people have the time and desire to be involved in EMS. It's not hard to see why, with the initial class involving over 120 hours, refresher courses every three years, and twice yearly evaluations for Advanced Life Support skills. But we do need help. If you are interesting in being involved in this sometimes hectic, but very satisfying business, please contact us.

At present, all EMT's must also meet the criteria for being a firefighter.

We have, for all practical purposes, two agencies which govern our EMS actions. One, North Country EMS, is responsible for standards of care issues, such as evaluating skills and maintaining records on individual providers. NCEMS answers to the Article 30 Council (Article 30 is the law regulating EMS in NYS) and to the Regional Emergency Medical Advisory Council (REMAC), which develops our local protocols.

The other agency, the Jefferson County EMS Office , is a branch of the County Public Health office. JCEMS coordinates training of EMS providers at all levels except paramedic. They generally sponsor two basic EMT courses per year (Fall & Spring), and a progression of the Advanced - Intermediate (given in the fall) and Advanced - Critical Care (given in the spring). Refresher courses at all levels are usually offered in both the fall and the spring.


---
An important issue facing EMS providers in our part of the county is lack of responders. We are investigating the

Return to Welcome Page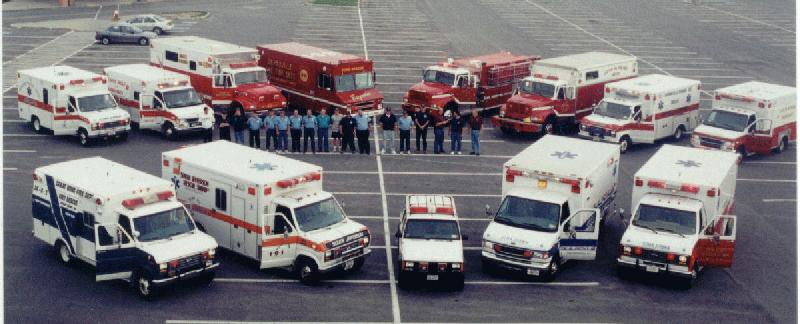 On a quiet Sunday morning, representatives from seven of Jefferson County's twenty ambulance squads and two of the county's seventeen first responder agencies gathered for a photo at Salmon Run Mall.
FIRST ROW - Great Bend FD First Responders, South Jefferson Rescue Squad, Guilfoyle EMS fly car and ambulance , Town of Watertown FD ambulance.
SECOND ROW - Redwood FD ambulance, Evans Mills Vol. Ambulance Squad, Town of Watertown FD heavy rescue , Depauville FD First Responders, Clayton FD tanker, Clayton FD heavy rescue, Mannsville-Manor Ambulance, Clayton FD ambulance.
The names of the individuals weren't recorded.