Depauville Fire Apparatus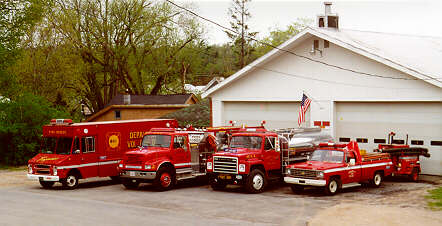 Click on the image for a larger view.



This 30 gallon wheeled soda acid extinguisher was probably the first fire apparatus in Depauville. It was located at the sawmill, and reportedly fought several fires in its day. We have restored it and it now appears occasionally in parades.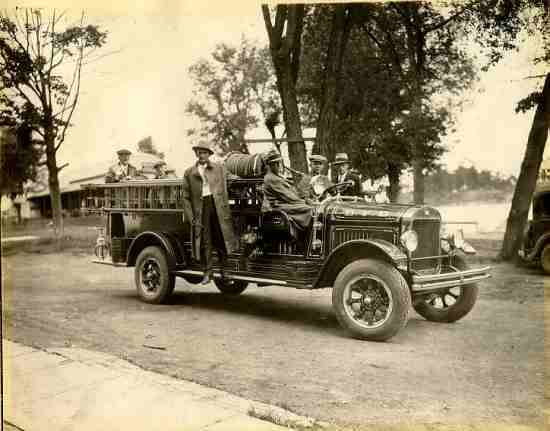 This 1929 Sanford 3N Cub, serial number 3N21, was built "on spec". It was purchased by the Depauville Fire District itn 1932 as a replacement for a Fordson tractor. It is unrestored and still runs, making almost annual appearances in local parades.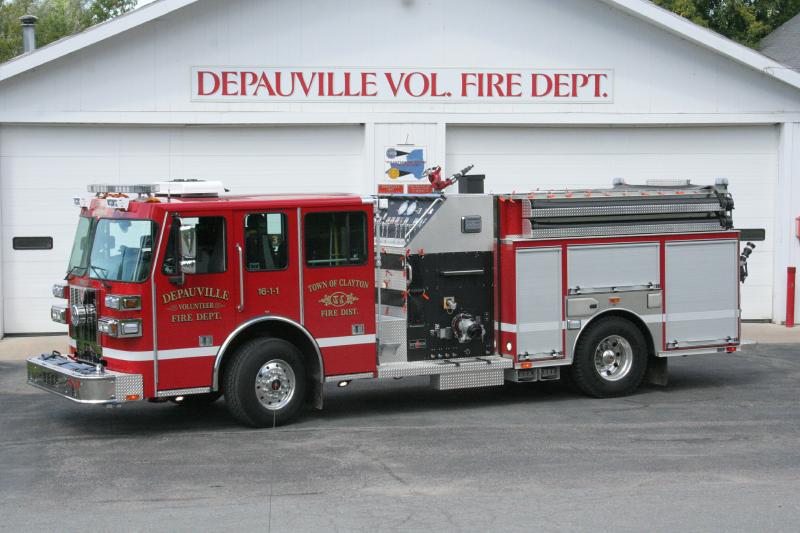 Our newest truck, designated 16-1-1, and nicknamed "The Big One". This Navistar/KME pumper has a 1250 GPM pump, and carries 1000 gallons of water. It was purchased by the Depauville Fire District itn 1992 as a replacement for a 1961 Ward LaFrance Fireball custom. This engine also carrie 350' of 1.75" hose on its crosslays, a 200' preconnected 3" line, 400' of 3" for supply, and 1000' of 5" supply line, as well as the usual complement of ladders, hand tools, air packs, and 10 gallons of AFFF.





Tanker 16-25-2 was so designated when it was built by the department because we still had a unit numbered 16-5-1 in service at the time. We haven't bothered to renumber this unit. The truck was assembled by department personnel (except for the mounting of the tank) using a 1984 International chassis and a 2000 gallon tank from Amthor. The truck carries only that equipment necessary to handle water, and is equipped with a 10" square quick-dump and a 350 GPM PTO pump.





Our Rescue and Equipment Truck, 16-6-1, serves a variety of roles. It carries turnout gear, tools, a generator, saws, and hand tools for firefighting; a trash pump and hose for flooded basements; and is fully equipped for Basic Life Support EMS, including an Automatic External Defribillator (AED). The truck was purchased new by the Fire Department in 1986. It is mounted on a Chevy chassis with a 350 cid V8 and automatic transmission.





With no hydrants in our district, we rely heavily on the old mill pond located roughly in the center of the hamlet. This 1000 GPM Hale trailer pump, towed by a 1974 Chevy pickup carrying 2000' of 3" hose, and its predecessors have existed to supply water for firefighting within and without the hamlet. The 2000' of hose will reach any structure in the hamlet. For fires outside the hamlet, this rig sets up on one of two dry hydrants located at the pond to fill tankers. The 1000' of 5" hose on 16-1-1 reduces our reliance on the hose carried by this two-piece setup, but it's not likely to go away soon.